A Doctor of Academic Excellence with an Exceptional bent towards in Social Work with Humanitarian Services
Dr Sudhir Bhandari a Professional of Excellence in Social Work with Humanitarian services, SENIOR PROFESSOR of Medicine at SMS Medical College & Hospital, Jaipur. He is a renowned physician and Diabetologist & Fellow of Royal College Physicians (FRCP), London. He has been bestowed with Rotary Foundation Fellowship in Diabetes and Metabolic Diseases at Cardiff (UK) and has been awarded Fellowship of American College Of Endocrinology (FACE) & Fellowship of American College Of Physicians (FACP) Fellowship of Indian College Of Physicians (FICP), Fellowship of Diabetes in India ( FDI), Fellowship of Indian Society of Cardiology (FISC), Fellow of research society for the study of diabetes in  india (FRSSDI).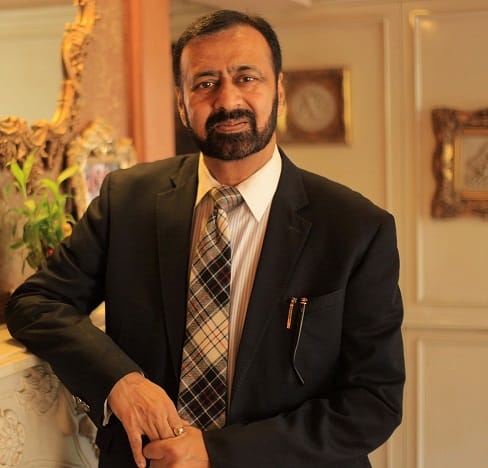 Dr Bhandari has Published 80 articles in prestigious medical journals & contributed chapter for the Text books on Hypertension, Diabetes & Cardio Vascular Disorders. Delivered more than 100 guest lectures at National Level Conferences & 30 at International Meetings. Principal Investigator of many National & International Studies . He is also a member of of Indian consensus group which formulated the guidelines for management of Type 1 Diabetes and Indian Guidelines on Lipid Management. Some of the Awards received by Dr Bhandari Includes Dr P.J. Mehta Young scientist award, Dr Chinna Reddy Gold Medal three times of Best Scientific Paper, State Merit award by Govt. of Rajasthan. Best Physician award by H.E the Governor of Rajasthan . At Social Service front received Rotary International recognition for Contribution in 1. Pulse- Polio Programme 2. Rural Charitable Medical Camps 3. Service to Handicap children.  Dr Bhandari has also a unique distinction of being Hon. Physician to H.E. Excellency the Governors of Rajasthan and all the chief ministers for the last 20 years.
Dr Sudhir Bhandari Passed MBBS with triple gold medals for first position, highest marks in medicine and surgery with honours from Dr. S.N. Medical College, Jodhpur in 1983. Did MD Medicine from same medical college 1986. He was selected for rotary GSE (Group study exchange) program in April 1986 to wales (United kingdom). He was qualified DNB (Diplomate of National board) in 1993.
Dr Sudhir Bhandari is a Consultant Internist Diabetologist & Metabolic Physician. A teaching faculty member is SMS medical college, since 1987. Joined as Assistant Professor in medicine and now working as a Sr. Professor in Medicine. During his career he has been responsible for patient care, undergraduate & post graduate teaching supervision of research & thesis work ( many national & international article published). He is running a Diabetic Clinic in SMS hospital (one of the largest medical hospital in country) & at his own Diabetic Care clinic. He is Honorary Physician to his Excellency the Governor of Rajasthan since 1998. His academic career is coupled with intense social work & service in form of regular charitable medical camp cont.ribution to Pulse polio programme helping handicapped & physically & mentally challenged children & public education Programme.